What's a sitcom? This question is a no-brainer. Sitcom is short for situation comedy. The one genre on television that never gets old. It's usually a compilation of good jokes told and performed with a plot. Something that doesn't force you to use your brain too much. Be it an 8 year old kid or a 70 year old granny, everyone enjoys a sitcom. One really doesn't need to follow the whole plot closely to have a good laugh. But what do you think makes a sitcom so popular? Is it just the one-liners? Or the laugh track of the studio audience that follows it? Or does it have to do something with the cast? The answer is none of the above. Because a good sitcom isn't restricted by any sort of stereotype. Sitcoms are produced with complete creative liberty, most of the times. In fact, forcing all these shows to follow the same rules would make it boring. It's important to understand what makes people laugh. And it's equally important to note what does not make them laugh. One thing that we don't like to see is the same thing over and over again. Which is why many sitcoms come and go, experimenting new and more quirky ideas. Rather than using clichéd plots and characters. There are loads of good sitcoms out there. But we have jotted down few of those that guarantee laughs and are perfect start for a newbie.
10. That '70s Show (1998-2006)
Here's a show that focuses on the daily lives of American teenagers in the '70s. It's set in the era when bell bottoms and record players use to be a thing. The show beautifully captures and parodies the many fads and attitudes of the old times. The gang of six teenagers usually find themselves pondering over life. They also indulge in many mishaps and adventures that any average teenager comes across.
9. Brooklyn Nine Nine (Since 2013)
Watch this show for a funny insight to Brooklyn's fictional 99th precinct. It showcases the daily work of the brave police officials in the precinct. But not in the boring way that you imagine it to be. The show is full of lovely characters that fit in the precinct perfectly. With genius writing, simple humour and a perfect cast, this show is a delight to watch every week.
8. The Modern Family (Since 2009)
Modern Family is about three branches of a single family. The family has an eclectic mix of many cultures and races. The show revolves around the drama that ensues in a modern day family. The show writers don't miss out on good laughs and witty plots. Apart from that, the story manages to display strong bonds between the family members.
7. The Big Bang Theory (Since 2007)
This show basically focuses on the life of four nerd scientists. They try to use scientific approach in trivial day to day matters. Especially in those activities that people in their 20s engage in. For instance, a nerdy Leonard trying to date a beautiful blonde Penny. Such sketches are fun to watch. Mostly because of the witty writing. Having eccentric characters supported by a stunning cast, makes it more enjoyable. This show has all its characters thought out neatly. Be it the brilliant yet obnoxious and socially-awkward Sheldon Cooper. Or the Indian Astrophysicist Raj, who can't talk to women without being drunk. All these factors make this show the most viewed sitcom for now.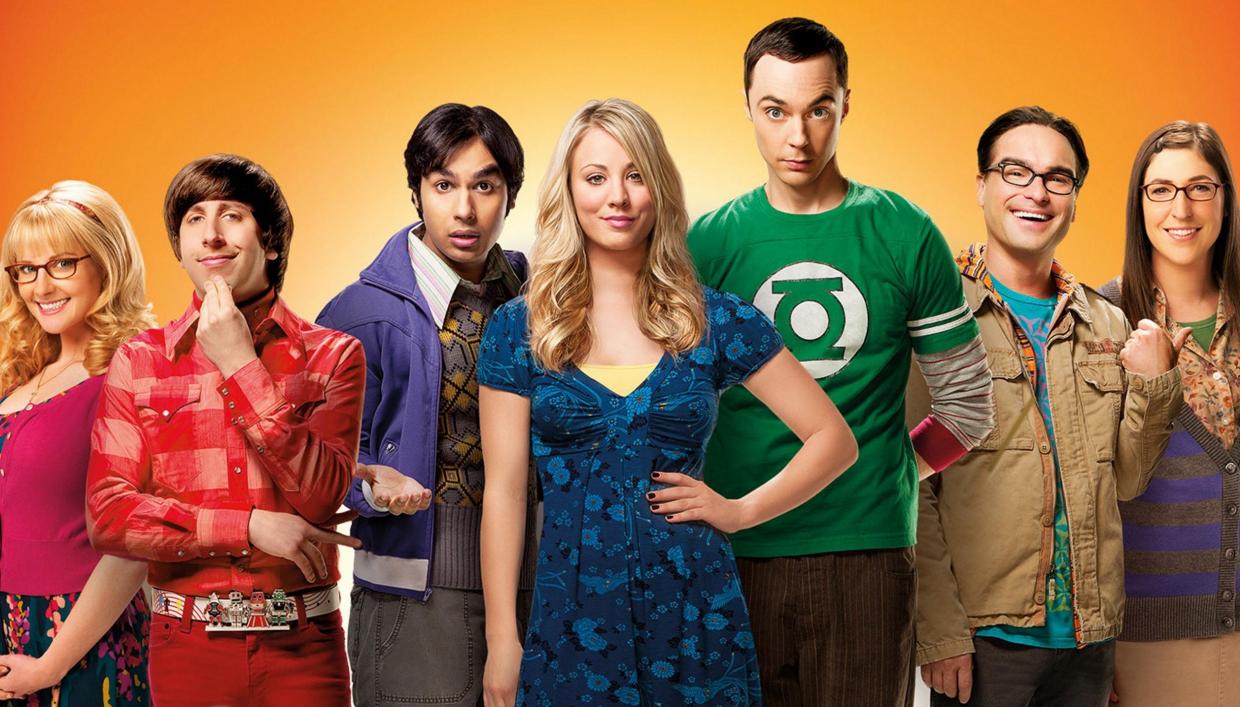 6. South Park (Since 1997)
It's an animated sitcom that takes on current affairs with a twist of humour. The parodies and stories are often based on happening trends. The stories are told through the life of four scornful grade-school kids. The show receives flak for having offensive content in almost every episode. But that is what dark and vulgar humour is all about, isn't it? Behind every obscenely funny joke, they have a strong satirical take on current affairs.
5. How I Met Your Mother (2005-2014)
The story of a father, Ted Mosby, telling his teenage children about how he met their mother. After 9 amazing seasons, the children finally know who the lucky mother is. But the stories before the special day is more special. This is perhaps one of the most sappiest sitcoms of all times. If you're one of those hopeless romantics, then this IS going to be your favourite show. Otherwise, fear not, as you have Barney to the rescue. With his antics and classy characterization, the show reaches a whole new level. Other cast members add up to the gang of friends. This gang finds itself a new exciting discussion every night and thus the fun begins. Making it not only just another sitcom, but also one that you can be inspired from.

4. Parks and Recreation (2009-2015)
Most of the sitcoms follow a specific style of storytelling. You'll mostly find sitcoms with people talking in an apartment or in a bar. But here's where Parks and Recreations aces, with a comedic take on a group of public officials of fictional town, Indiana. The department is determined to make the city better with their helpful projects. All this is conveyed in a mockumentary style, which makes it more enjoyable.
3. The Simpsons (Since 1989)
This is an animated sitcom about a middle-class american family. The family is somewhat dysfunctional and their story is set in Springfield city. This is one of the constant shows in the world of changing television. Ever since its pilot, the show's story has only gotten better. It is full of pop culture references. Also packs in a lot of jokes that would make you ROFL.
2. Friends (1994-2004)
Ask anyone who's born in the nineties about the one show they enjoyed watching the most. 8 out of 10 will say Friends. An enchanting sitcom about friendship and love between a group of six people. It's set in the marvellous city of New York. Every episode shows a different comedic and tragic life event revolving around the group. The consistently well written lines move the plot towards a befitting direction. After adding some beautiful characters acted by even more charming cast, this sitcom is a sure shot keeper.
1. Seinfeld (1989-1998)
Let's talk about sitcoms daring to experiment new quirks and ideas. Unlike any other sitcom, Seinfeld is one with practically no plot. It's a show about NOTHING. It's the one feature of the show that even the characters of the sitcom would agree with. Jerry Seinfeld, the brilliant stand-up comedian plays himself in this classic sitcom. It usually focuses on the life of Jerry with his friend George, ex girlfriend Elaine and the most eccentric Kramer. It involves conversation and incident incurring between these characters about trivial matters. Their outlook on every such problem is extremely observant and funny. The show is the brainchild of Jerry Seinfeld and Larry David. Both are excellent comedians, so you can be sure of the lines on this sitcom to be gut-wrenchingly funny.
All these sitcoms are sure to tickle your funny bone from time to time. In case you've missed watching the shows on its premier, try binge-watching the shows. The good thing about any sitcom is that the jokes never get old and can be watched as many time as they are run. Perhaps some of your favourite sitcoms might have not made it in the list. It's important to note that this list has those sitcoms that will be enjoyed by majority of viewers. Your favourite sitcom can be recommended, it is welcome in the comments. Nonetheless, any sitcom is a delight to watch. Wait no more. Start watching. Keep smiling.